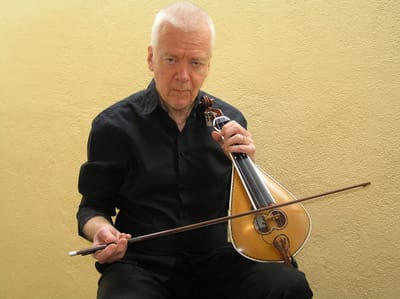 SANGIT OM was born in a small town in Germany, as the illegitimate son of the composer Luis Steiner and Ingeborg Meincke. Because the father was not available, he was named Stefan Meincke.
Part of his childhood he lived in his grandparents house. It was a very musical family and Stefan received his first piano lessons when he was 5 years old.
When Ingeborg married Gustav Petersilge, an engineer and teacher from Mannheim, Stefans name was changed to Stefan Petersilge and the small family moved to Mannheim.
He studied classical Viola at the "Staatliche Hochschule für Musik Heidelberg/Mannheim" in the class of Nobuko Araki and composition with Hans Vogt.
Two years later he moved to Hannover to study Viola with Heinz-Otto Graf and composition with Ladislav Kupcovic. Furthermore he attended the Jazz-Seminar, founded by Jo Viera and seminars for electronic music, acoustics and sound ingeneering.
In 1979 he passed exams (MA) with distinction and started to work as a freelancing musician and composer.
In 1984 he met his spiritual master Shri Rashneesh, from whom he received the spiritual name Sangit Om, which means "Music of Silence".
In 1987 was his first of several trips to India. He studied the principals of Classical Indian Music and learned the technique of the bansuri (Indian Bamboo Flute), and he released the album "Sangit Om / True Stories". It was the first album of a long row of successful New-Age-CDs that he produced for EMI/Electrola, Nightingale, Bauer, Oreade, Higher Otave and many more. He developed a strong personal style, blending his musical influences to a unique, profound, authentic and beautiful mixture.
In 2002 he moved to Crete. He learned to play the lyre, the main instrument of the Cretan folk music and he is accepted as a recording and performing artist in the field of contemporary traditional music.
In 2016 he was diagnosed with Parkinson's desease. In spite of this burden, he continues playing and recording his music. His latest projects are inluding an album with traditional Cretan music - featuring SANGIT OM as the main vocalist - and an album with pure piano music, reflections on the traumatic eperiences that we all are going through, because of the covid pandemic with all its difficult consequences.